Motorcykel, designer, eventmoderator
Österrikaren med tyska rötter har cyklat tävlingsinriktat sedan han var 16 år gammal. Bland andra tävlingar lyckades han bevisa sig i internationella tävlingar som Nissan Qashqai Challenge, Nine Knights Supersessions och Freeride Mountain Bike World Tour, som en av de bästa europeiska gravitycyklisterna.
Sedan 2011 har han varit känd för en bredare publik. Inte bara för att Andi Brewi åkte ifrån en OS-vinnande snowboardåkare under den berömda TV-värden Thomas Gottschalks sista utomhus vad i Ischgl innan han pensionerade sig från den populära tyska TV-showen "Wetten dass… – jag slår vad om att…", han har också varit med av många facktidningar, i TV och online-portaler.
Sedan Andi Brewi drog sig tillbaka från tävlingsscenen har han fokuserat helt på medievärlden, vilket har gett honom en ännu större räckvidd och gör honom till en eftertraktad mountainbikeåkare i det tysktalande området. Dessutom kör Andi motocross, förespråkar en hållbar mountainbikeinfrastruktur som erfaren spårbyggare, är en framgångsrik kommentator och har sin egen podcast som heter BREWI MEETS och som han startade 2020.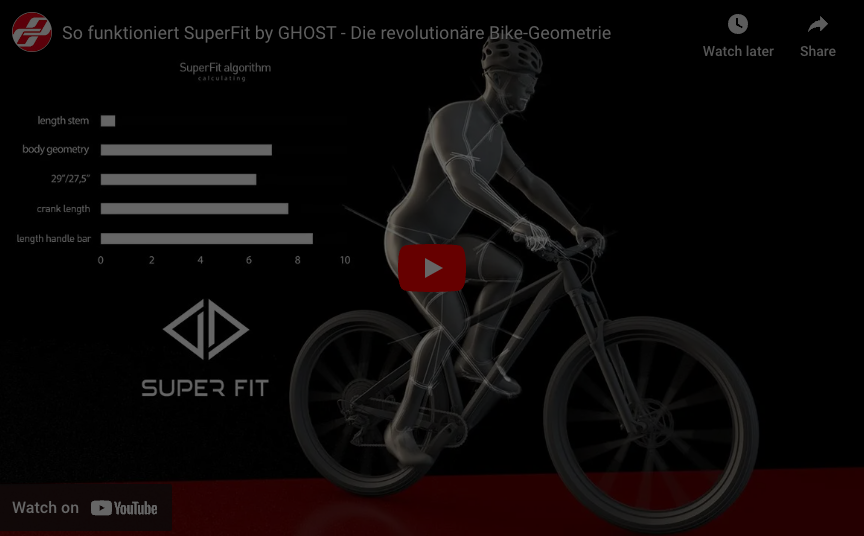 Andi's cyklar

Riot AM Full PArty


Nirvana 4x

The Full Party Crew is a group of young, ambitious mountain bikers selected by Andi and GHOST.  For one year, they are supported and coached by Andi, receive Full Party bikes and equipment and can thus develop their biking skills.  This year Anna, Jonas, Christian and Justus made it into the crew.
This year, Jonas, Justus, Christian and Anna made it through to the crew.
With their videos on Instagram under the #ghostfullpartycrew, they managed to convince Andi out of over 800 videos submitted. Through their creativity and passion for biking, the four have rightly become the Full Party Crew 2022.
About Anna
Name: Zahner, Anna Rabea 
Born: 06.11.90
Hobbies: BMX, fitness, snowboarding, skiing, handicrafts, gardening 
Events 2022: free to be, flat out days, Girls shred, Bikefestival Leogang

About Justus
Name: Rudolph Justus
Born: 18.10.1998
Hobbies: mountain biking, fitness, photography
Events 2022: DirtMasters, Glemmride, FlatOutDays

About Jonas
Name: Jonas Möhwald 
Born: 28.04.2000 
Hobbies: Camping, travelling, fitness, ski touring, cross country skiing, bikepacking 
Events 2022: Free to be - Speed and Style & Whip Off, German ENDURO Championship Willingen, Dirtmasters Winterberg, EWS Petzen, EWS Val di Fassa
About Christian
Name: Schriebl Christian
Born: 10.10.2001
Hobbies: Mountain biking, Ski touring, Snowboarding, Climbing, Hiking
Events: Miesenbach Free to Be; Glemmride; Bikefest Kalnica; FlatOutDays
Their first crew weekend is already scheduled for 7 May 2022. At the "Speed and Style" race in Miesenbach (Austria), the young riders will spend a weekend together with Andi and lots of action.
Would you like to stay up to date on what the crew is up to?
Then feel free to follow them on Instagram:
Anna: @annaraeisibay
Justus: @justus.rudolph
Christian: @christian_schriebl
Jonas: @jonas.moehwald
The Full Party Crew has already been selected for 2022.
Justus, Anna, Christian and Jonas won the four places in the crew in our social media contest. 
Follow us on Instagram so you don't miss the next contest or sign up for our newsletter.
Full Party is an equipment variant of our mountain bikes.
The high-quality components of these Full Party models are chosen as we would recommend them to our best friends: Everything included and at the same time not overengineered. A variant for all those who do not want to make any compromises and at the same time do not need the high-end variant.